Chirocrackpot
The acupuncturists better get their acts together. Sure, they occupy a distinctive and respected niche in the panoply of alternative remedies, but, if they don't watch their backs, they are going to get blown right out of the market.
The trouble with acupuncture is that it claims to actually cure you. You go for a treatment, or two, or five, and then the acupuncturist says, "are you better?". If you are better, you're done. You pay your bill and go back to your life. If you're not better, they'll suggest you try something else.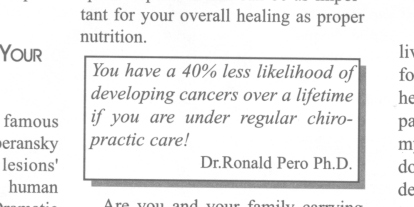 Miraculous? From a chiropractic brochure.
If I were an acupuncturist, I would make a few changes immediately. First of all, I would help form a strong organization of acupuncturists to sponsor "research" (he he he) to show that almost everyone suffers regular blockages of "qi" along those crowded meridians that run up and down your body. Then I would set up a "study" (ha ha ha) to show that people who receive regular acupuncture are healthier, happier, and sexier than people who don't. It's not hard to do. Read the polls. Ask the right question of the right people and you get the results you want every time! Heck, I would even claim that people who receive regular acupuncture get cancer 40% less often than people who only see a chiropractor. You think it might be hard to fudge that kind of data? Come on! Use your imagination!
Next, I would have special little free seminars on health, with treats, entertainment, and a clever speaker, to promote the virtues of weekly acupuncture. The real objective, of course, is not to provide information, but to acquire a large number of new patients. It is not necessary to tell even a single person at these seminars that he or she might not need acupuncture. Why, everyone does!
To successfully promote a remedy, you must first, of course, promote the disease. For chiropractors, it's "subluxation", (even though Microsoft's dictionary doesn't recognize it as a word). For acupuncturists, I suggest "neuritis". It sounds sufficiently familiar and medical to be convincing while possessing the all-important quality of nebulousness. All acupuncturists must use this phrase constantly, in reference to every pathological condition, in order to convince the public that everybody has always known that "neuritis" has always existed and needs to be treated constantly. Why, children get "neuritis" right at birth! They need to be treated within the first week or so, to head off cancer, and asthma, chronic fatigue syndrome.
One chiropractor on the web offers a free initial consult to anyone. That's a great idea. He says that he will provide a careful assessment, and then let you know if you need treatment!
Ha ha.
Ever go to Speedy muffler for a "free" brake inspection? Did they ever tell you, "Well, everything's shipshape. Can't find a thing to fix."? Never. They get your car up on a hoist and then tell you that they just "can't" let you go without fixing those dangerously worn out or defective brakes or struts or shocks or whatever. That's the idea. If you really want to generate some serious income, get your prospective client naked on the table under a sheet, and then tell him or her that you just can't, in good professional conscience, let him walk out that door without a treatment for that terrible case of neuritis.
Do you think it will be hard to convince people that they have neuritis? Not at all. Simply ask the following questions slowly while staring sympathetically into the patient's eyes:
Do you ever feel tired or irritable?
Any trouble sleeping?
Aches and pains that never seem to go away?
Headaches?
Ever feel sad or depressed? Or tired?
Do you sometimes feel a vague sense of unease or displeasure?
Do you get tired sometimes?
Ever sit down in a chair and not want to get up and jog two miles?
There you go. Just try answering "no" to all those questions? I'll bet you can't.
Finally, if you really have trouble convincing your patients to come in more often, follow this procedure: adopt a very serious, compassionate expression, look the patient in the eye, and tell him or her that you cannot, in good conscience, continue to compromise your professional principles. If the patient is not willing to come in at least once every two weeks, you will have to refer him or her to another quack…. Er… therapist.
Interesting stuff on chiropractors:
http://www.chirobase.org/01General/chirosub.html
In 1973, the U.S. Congress authorized Medicare payments for chiropractic treatments if subluxation could be demonstrated from x-rays. This threw chiropractic into a tizzy, because even though chiropractors take x-rays all the time and point out the "subluxation" to their prospective clients… well, the truth is that nobody can really see subluxations. When 20/20 took a set of x-rays to three different chiropractors and asked them to point out the sub-luxated vertebrae, they each picked a different one.
Yet, they have to show one in order to get paid.
Two years ago, in an attempt to "unify" chiropractic terminology, the Association of Chiropractic Colleges issued the following definition: "A subluxation is a complex of functional and/or structural and or pathological articular changes that compromise neural integrity and may influence organ system and general health."

So how about this: "neuritis is a complex of functional and/or structural and pathological changes that compromise neural integrity and may influence organ system and general health".
Yeah. That about covers everything.