Here's the starting lineup for the Toronto Blue Jays as of June 24, and their batting averages (from a game against the Expos– hence Halladay):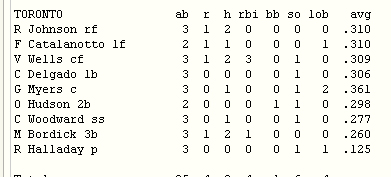 I've been following the Blue Jays since about 1983 and I doubt they have ever had as formidable a hitting line-up as they do now. Five batters over .300, six, if you include Shannon Stewart, who is currently on the DL. Average, of course, is not the most important number. Wells and Delgado lead the league in RBI; Delgado leads in homers, and Wells is fourth or fifth. The Blue Jays hit for average and power and they take a lot of pitches. They lead in almost all offensive categories: average, on-base percentage, hits, runs, etc., except home runs. They are third, currently, with 97, about ten behind the leaders, the Yankees and Texas.
Baseball is game of streaks, so it pays to be careful before making judgments about how good a team is. The Jays have periodically shown flashes of inspiration in the past decade, but seem to always end up in third place, behind Boston and New York.
Are the 2003 Jays the real thing? Do they have the horses to make the wild card, or perhaps even over take the Yankees?
The most obvious weakness of this team is the pitching. For the first month, Jays pitchers were as horrible as any Blue Jays staff has ever been going back to 1982. The fact that they are still near the bottom of the league in pitching stats, however, is more indicative of that horrible month, during which they went 8-18, than of the quality of their current staff.  Roy Halladay, Kelvim Escobar, and Mark Hendrickson have pitched very well in the past week or so, and Corey Lidle pitches well enough to win, usually. But the bullpen is unusually week, and Cliff Politte has not yet shown that he has solved their closer problem. I watched Politte today, one day after he gave up a home-run to lose a game the Jays should have won to the Expos. His off-speed stuff was well off the plate and his fast balls were high in the strike-zone and didn't fool anybody. He gave up a single, and two fly ball outs within inches of the outfield wall. The Jays won, but it was a white-knuckle victory, especially after Halladay had given them 8 innings of two-hit ball.
For all the deficiencies of their bullpen, the Blue Jays have been playing terrific ball for the past month and a half. Only the Mariners have been equal to them over that period. That's long enough to justify the opinion that the 2003 Jays will be competitive. They have closed steadily on the Yankees and Boston and currently sit 2 games back of New York, .5 games up on Boston. It is fair to say that almost no baseball pundits picked them to play this well. Of course, we're not half way through the season yet.
The Blue Jays virtually never sacrifice bunt or steal. If you believe in the sacrifice bunt and the steal as offensive weapons, it's hard to explain why the Jays lead the league in almost all offensive categories.
It also appears that baseball writers, while noting the spectacular offense, haven't generally noticed that the starting pitching has improved dramatically. Halladay has 11 consecutive wins, and the rest of the staff — except for the bullpen– has pitched well enough to win most nights.
The Up Side: This team can score runs! Look at the averages above. The Blue Jays lead the league in most offensive categories, including batting average with runners in scoring position, and in scoring position with two outs.
Both Hinske and Stewart are due to return from the disabled list soon and Hinske, last year's rookie of the year, at least, will be an improvement at third over Mike Bordick (.260, 2 hrs.). The Blue Jays lead all of baseball in runs scored, and Delgado and Wells lead both leagues in RBI. Delgado theoretically could drive in 160 runs this year, though it's not altogether likely he'll maintain this pace through the second half. Delgado should be a shoe-in for first base on the all-star team and Wells should be starting centre field, but he is not well-known outside of Toronto and the baseball writers association. Greg Myers is having a career year at 38 years old. Catalanotto had an off year last year with injuries, but his performance this year is not a fluke. Even the subs, Howie Clark and Reed Johnson, have hit remarkably well. In fact, the Jays would obviously like to find a way to keep Reed Johnson in the line-up after Stewart returns, but this is now a tough line-up to crack.
Pitching has been up and down, but has improved significantly since May 1. Halladay, Escobar, and Hedrickson have pitched very well in the past four weeks. Escobar has always had dominating stuff, but the story was that he occasionally lost focus and was prone to giving up the big inning. Hedrickson pitched poorly for a while but improved when manager Tosca made it clear his job was on the line.
The best indicator of all is the relative youth of the Blue Jays line-up. Young players are cheap, and they tend to improve. That may sound like common sense, but it's surprising how many baseball teams (like the New York Mets) ignore that simple axiom. Vernon Wells, Orlando Hudson, Eric Hinske, Josh Phelps, Chris Woodward, Howie Clark, and Reed Johnson are already performing well and will likely get better in the next few years. In fact, their performances this year, so far, are somewhat extraordinary, which raises the suspicion that some of them will cool off later in the season. Is Hudson really a .300 hitter? Can Josh Phelps handle the slop pitchers will start to throw at him once they realize what he can do to a fast ball up in the strike zone? Will Hinske continue to improve defensively at 3rd base? If Catalanotto slumps, will Wells start to see more junk pitches?
Josh Phelps is the only hitter in the current line-up who still swings at bad pitches. It's a scary thought– what if he gets some plate discipline? What if Hinske comes back and hits .300 with power?
The Blue Jays don't seem to be intimidated by strong, power pitchers. They hammered a finesse pitcher, like Andy Pettite, and they hammered Vasquez in Montreal and scored five runs against Wood in Chicago. The only team that has given them trouble in the last month has been St. Louis.
The Blue Jays swept both Boston and New York in 3 and 4 game sets, the last time they played their divisional rivals.
The Down Side: relief pitching remains a major problem. Politte has given up far too many home runs, and Sturtze and Tam have been ineffective. This is the one area of the line-up Ricciardi might be thinking of improving. Any teams out there with a good strong, durable reliever to trade for a premiere lead-off hitter? Shannon Stewart is a terrific player, but the Jays are awash in good hitters and outfielders right now. Stewart becomes a free agent next year. It would not be a dumb idea to trade him now for a good relief arm or two.
The question of depth is often raised with young, over-achieving teams like the Blue Jays. Often they ride career years by a few key players, disguising their weaknesses with astute management and a bit of good luck. Delgado and Wells are indeed having outstanding years, but when Delgado recently drove in only one run in six games, the Blue Jays still went 5-1. The two bench players called up to replace Stewart and Hinske are batting .325 and .450, with power. Woodward and Hudson, shortstop and second base, are batting a respectable .265 and .298. In their last two starts, Hendrickson, Halladay, and Escobar have each allowed two runs or less each.
The Blue Jays are not a fluke.
This is a remarkable team. It is unknown, except for Delgado and maybe Halladay, but likely to overtake the Yankees within the next two weeks.
---
Fistfull of Dollars: Blue Jays Payroll is about $80 million, solidly in the middle of the pack, and well below the Yankees' $175 million.  Below is what the Yankees get for their $175 million: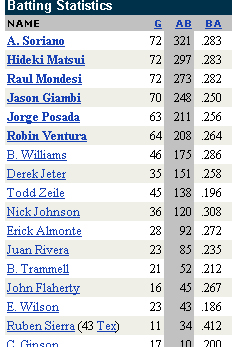 ---
Blue Jays Pitchers –
Starters:
Roy Halladay
Mark Hendrickson
Cory Lidle
Doug Davis
Kelvim Escobar
Relievers:
Cliff Politte
Tanyon Sturtze
Pete Walker
Jeff Tam
Aurilio Lopez
Doug Creek
In their 25 year history, the Blue Jays have had three great offensive line-ups.
The first, roughly 1983-1987, featured George Bell, Lloyd Moseby, Jesse Barfield, Tony Fernandez, Damaso Garcia, Rance Mulliniks, and Ernie Whitt. Willie Upshaw holds the team record for longest period of coming out of his slump. In fact, he's still coming out of his slump.
The second, roughly 1992-1994, featured Roberto Alomar, Devon White, Kelly Gruber, Ed Sprague, Pat Borders, John Olerud, and Joe Carter with trade-deadline guests, Dave Winfield, Paul Molitor, and Rickey Henderson. I suspect both Winfield's and Henderson's contributions were minimal, but Molitor joined Olerud and Alomar as three of the best hitters in the league in 1993. The Blue Jays won two World Series with this team, including the infamous 15-14 victory over Philadelphia in game 5, and, of course, Joe Carter's walk-off series-winning home-run off Mitch Williams..
Joe Carter and George Bell were dominating for brief periods. Olerud was an outstanding hitter at times, and extremely consistent, if unspectacular. He'll have a 3,000 hit career but won't make the Hall of Fame. Delgado is probably the greatest offensive threat to ever wear a Blue Jays uniform.
But of the entire pack of them, Roberto Alomar was, in his prime, the best all-round player the Blue Jays ever had, and the most likely to be the first Blue Jay to go into the Hall of Fame (as a Blue Jay)..