No reform can enable schools to cope with the 36.9 percent of all children and 69.9 percent of black children today born out of wedlock, which means, among many other things, a continually renewed cohort of unruly adolescent males. Washington Post, April 24, 2007
I don't know. Not much to add to that really.
Well, let's make this point. If, over a long period of time, 70% of children born to black mothers are born out of wedlock and raised without a father…. what we have here is what is "normal". What is "abnormal" for that community is the traditional television family of Mom, Pop, Uncle Charlie, and the kids. On the other hand, now that I mention it, most television families are single parents– so the writers can introduce a romance every so often– like every other episode– because otherwise we would find the show boring.
So maybe we should quit whining about children being born out of wedlock and just face facts and start establishing programs that are optimized to work with single parent families instead of assuming a "normal" two parent family.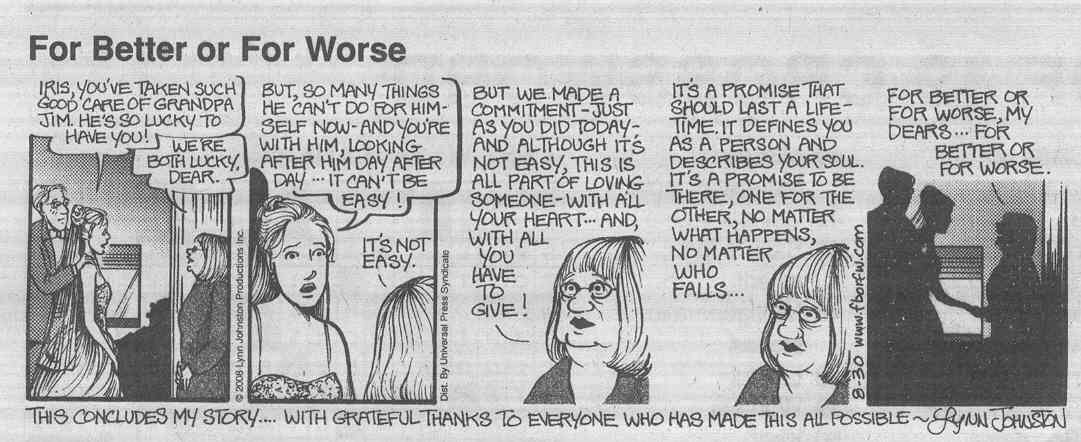 From a sequence in the comic strip "For Better or Worse" that I frankly found rather creepy. At no point is there any attempt to find out whether "Grandpa" is really into this clingy, enmeshed caregiver. Is this about love or possession and control? Is this something that describes your soul or circumscribes your individuality?
As a Christian, I don't believe that marriage "defines your soul". Your faith does. Christ himself demanded that his followers be ready to forsake their families to follow him– not exactly James Dobson, is it?