First of all, I had never before heard of Fanny.   Fanny was an all-female band that formed in 1970, consisting of June Millington (electric guitar), Jean Millington (bass), Alice De Buhr, and Nickey Barclay.  The women were remarkably talented– no doubt about it: they could play.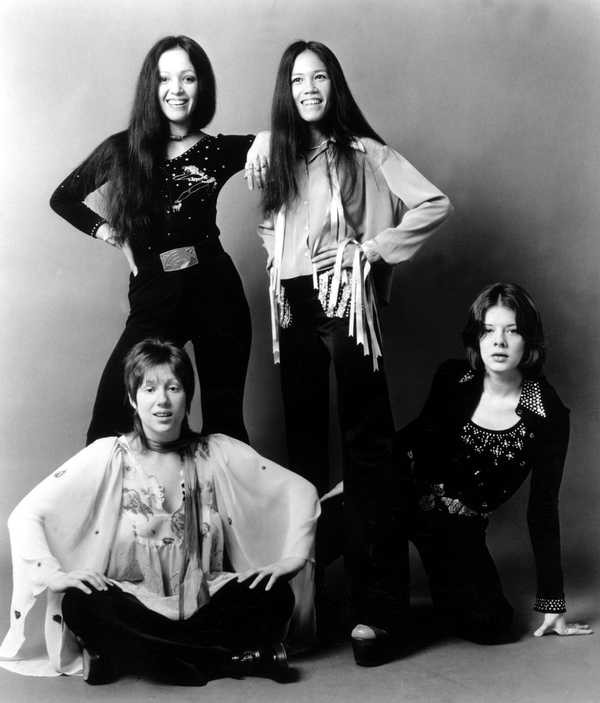 I have been following music closely since I started listening to Bob Dylan when I was ten years old.  I have followed it closely throughout the last 55 years.  I never heard of Fanny that I can remember.  After listening to their songs, I feel apologetic.  I feel dispossessed.
Come on– they are absolutely fabulous.
Let me be clear: hard rock is not my preferred style.  I find it abrasive, noisy, sometimes propulsive, sometimes dull.  I crave good lyrics, the use of musical space, nuance, and subtlety.  I don't have a single hard rock song on my personal list of the top 25 songs of all time, though I suppose Springsteen's "Thunder Road" or "Backstreets" or "Adam Raised a Cain" might qualify at least as "hard edged" rock.
I recently watched a documentary on PBS, "Fanny: The Right to Rock".   To my utter disbelief, this variation of the film is clumsily censored, words beeped out, images of breasts blurred out.  Fuck you, whoever did that.  I found a good copy elsewhere.
If I had been in charge of this project there is one thing I would have asserted right from the start as absolutely essential to the objective of this film: at no point should the esteem or lack thereof of their music be attributed to sexist, patriarchal oppression, sexism, and discrimination.  The fact that Janis Joplin did succeed where Fanny did not tells you that there was more to it than sexism.  And to be fair, the members of the band on the record in the documentary don't belabor the point.
[Incidentally: it's a product of BBC IV and if you can find the original BBC version, you can avoid the contemptible censorship savaged on the PBS version, notably including scenes of the girls frolicking half-naked in Hedy Lamar's former house in Los Angeles.]
But why?  Isn't that the essential story of the band?  Well, if it is, the band is not worthy of this tribute.  If the band should be known to you because they broke barriers and because they were really better than anyone thinks they were because their singular lack of popular and critical success is due not to any deficiency of talent but to the obstacles placed in their path by sexist (and racist — they were Philippine) attitudes, then you have to prove it by providing me with the songs and musical achievements that deserved more recognition than they got.
What you should want more than anything– what you should positively crave– is for viewers to be convinced that Fanny produced some extraordinary music that stands on its own merits without qualification.  That, this documentary failed to do.   To declare that their work was important or significant because they were women is defeatist.  It is to admit that their work really wasn't good enough to earn distinction on its own.
They should instead insist on their music being heard on its own terms: very, very good hard rock.  Four very good musicians creating respectable, admirable songs.  In particular, Jean Millington's vocals are probably as good or better than Janis Joplins'– and she could play bass — really play– to boot.
Jean Millington later said that Fanny had to have a strong live presence in order to overcome audience's perceptions that women could not play rock music well.  Wiki
Well, we don't really know.  Do audiences really sit there and think, oh, I think they sound pretty good but they're female so they can't be as good as they sound?  Or do audiences simply sit there and think, "they don't sound that great" and it's the band and the feminists who think it's because of their gender?  I am at a loss.  Listen to them: how could an audience not be impressed?
They didn't "break through" into real success.  To do that, you absolutely have to have at least one song that really amazes people, that demonstrates originality and style and inventiveness and a compelling melody or vocal or all of the above.  A "More Than as Feeling" or "We Don't Need no Education" or "Eighteen" or "Hit Me With Your Best Shot" or, crossing genres, "Have You Never Been Mellow" or "That's the Way I've Always Heard it Should Be" or "Anchorage" or "First We Take Manhattan" or, even better, "The Hammond Song" by the Roches, a female group (in folk) that really did stand out for the quality of their music– not because they were female.  Fanny had many very good songs, but I can't identify one that could have crossed-over into a pop hit.  But then, there were so many crappy pop hits.  And, of course, the promotional efforts of the record industry plays a big role.  They did have notable TV appearances, so you can't say they didn't get anything.  Just not enough.
What were they aspiring to?  Pop success?  They say they just wanted to be known for their talent, not their looks, but it was clear that they were not really good enough to be successful for their brilliant artistic achievements like, say, The Band or Steely Dan.  The bands that cite them as an inspiration, the Go-Gos, the Bangles, and the Runaways, were also pop bands with more success at creating the catchy pop single.  None of them were as good, from a purely musical perspective, as the Roches.
David Bowie's appreciation of the band is frequently quoted:  "They were extraordinary: they wrote everything, they played like motherfuckers".  Yeah, well, David Bowie was dating Jean Millington in 1973.  He was being asked to judge his girl.  But, okay, he was actually right.
Like almost all musicians, they were cruelly ripped off by their own management and the record companies.  But that is at least partly due to their own ignorance.  They allowed their producer and the record company to fire Brie Brandt because they wanted them to resemble the Beatles.  Seriously?  Because they had four members?  The rest of the band was very sad about cutting Brie out of the band, but it did not seem to occur to them that there is a universe in which young musicians can decide personnel matters for themselves.  It was as if God told them to fire her and they did.  They talk about it as if there really was no choice, because they don't want to admit that the choice was between Brie and the commercial backing of the label.
There are bands that refused to compromise on issues like that and still found success.  There are probably even more bands that made the same compromise and, like Fanny, went nowhere.
The inevitable reunion is covered.  Nickey Barclay is mysteriously absent.  There is a clip of them performing live which is conspicuously deceitful: it's the studio recording playing over the video of the band.  Not all viewers are dumb enough to not ask themselves immediately why they don't play the live audio.
The broadcast version I saw beeped out "offensive" language.  Seriously?  It's 2023.  You're doing a documentary on this courageous, ground-breaking, revolutionary, ballsy female band, and you have to careful not to offend the delicate sensibilities of your projected audience?  [As I mentioned earlier, check out the BBC original if you can.]
The Candidates:
Aint That Peculiar
Fairly upbeat love song (the more you hurt me the more I love you).  Slide electric, pretty good bass.  Not bad, but not particularly distinguished.
Blind Alley
Typical Fanny: extremely busy, dense, vocals typical of thrash metal bands–  like, have you ever heard of space?  Vocals are "stretching", a habit developed by metal bands from trying to be heard above their own noise.
Last Night I had a Dream
All the lousy little poets coming round trying to sound like Janis Joplin…
Place in the Country
Nicky Barclay sounds more than a little derivative of Janis Joplin (did Joplin cop a few strokes from Barclay?  They are active around the same time), but without the variety of tone and pace.