Oh my but you have a pretty face,
You favor a girl that I knew.
Oh my.
Jesse Winchester's lyrics starts out with that expression of startled awe: oh my!
It's not "holy cow" or "my goodness" or "wow". "Oh my" is that quick feint with polite astonishment, an involuntary gasp of amazement, too spontaneous to be refined or vulgarized: oh my.
Jesse Winchester was writing about his experience as a draft-dodger. He moved to Canada in 1967 to avoid service in the Viet Nam War. Obviously, he left someone behind. From "The Brand New Tennessee Waltz" (1970):
Well I left Tennessee in a hurry dear,
The same way that I'm leaving you
For love is mainly just memories
And everyone has him a few
When I'm gone, I'll be glad to love you.
That line deserves a thought or two: love is mainly just memories? That's not a shocking idea, really. It's much the same as saying "you don't know what you've got 'til it's gone". It's certainly much easier to be in love with a memory than with the person who wants you to throw out the garbage and stop switching channels. It leaves aside the issue of whether that kind of love can be real. He's feeling "like one of your photographs\caught while I'm putting on airs".
I don't mind the Joan Baez version of the song, though I find her generally harder and harder to enjoy the older I get. She's really not a very good singer at all– she just has a lovely voice. Well, she has a voice that would be lovely if she weren't so damn obsessed with trilling it. Her best work is her slightest: the vocals on "Diamonds and Rust" nicely get under the lyrics instead of on top of them, like thick creamy icing.
---
When I was about 14, I biked down to Queenston Heights one summer day and climbed up Brock's Monument, a tall, narrow cement column that culminated in a series of viewports embedded in a coarse sculpture of General Isaac Brock, the hero of the Battle of Queenston Heights, who was shot by the Americans when they spotted him on his white horse in his scarlet tunic.
The stairs up the monument were very, very narrow. I was on my way down when I encountered a small group coming up, so I stopped and stood against the wall and waited to let them pass.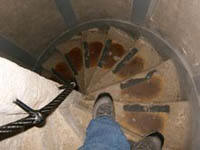 The first person in this group was a girl about my age. She stepped level with me and turned to look at my face. We were just inches away from each other. That was 40 years ago, and I still remember thinking, "oh my, but you have a pretty face". Not exactly in the words of the Jesse Winchester song, but the sentiment was the same: oh my.
I can no longer actually remember what she looked like. What I remember– and this is true of a lot of our memories, I think– is the intensity of the feeling I had about that face. In my catalogue of a lifetime of memories, of all the pretty girls I've ever looked at, I still remember it as one of the most startlingly beautiful faces I have ever seen. She had red hair and freckles and green eyes and beautiful full lips. The average blonde may be more beautiful than the average red-head, but a really beautiful red-head with green eyes is peerless. Her skin seemed luminous. I was so taken aback that I couldn't avert my eyes and she seemed so startled by my stare that she stared back. She stepped away, up the stairs, and looked back once.
I waited at the bottom for a long time for her to come down, just to see that face again. She emerged a time later, supremely indifferent to my existence. She walked by me and left my orbit forever.
---
"Diamonds and Rust" by Joan Baez deserves a mention somewhere, if only for these lines:
Now I see you standing with brown leaves falling around snow in your hair
Now you're smiling out the window of that crummy hotel over Washington Square
Our breath comes out white clouds, mingles, and hangs in the air
Speaking strictly for me we both could have died then and there.
For me, autumn has always been the most "real" season– the cold winds, the warm coats, the sound of dried leaves under foot, the stilled conversations, the sense of diminished opportunity. Memories of summer can drift into haze, ennui, an indeterminate place and time.
And then, Baez sings,:
Now you're telling me you're not nostalgic/
then give me another word for it/
you were so good with words/
and at keeping things vague
Vague, I suppose, and non-committal. "You were so good with words" is both an accusation and a lacerating confession: I believed you. I may have been a fool, but I believed you, and even with the advantage of hindsight, yes, I'm nostalgic– I wish I could believe again.
The Baez song also has a great opening: "
Well I'll be damned/
Here comes your ghost again…"
In case you didn't know, the song is presumed to be about Bob Dylan. I believe she has confirmed that.